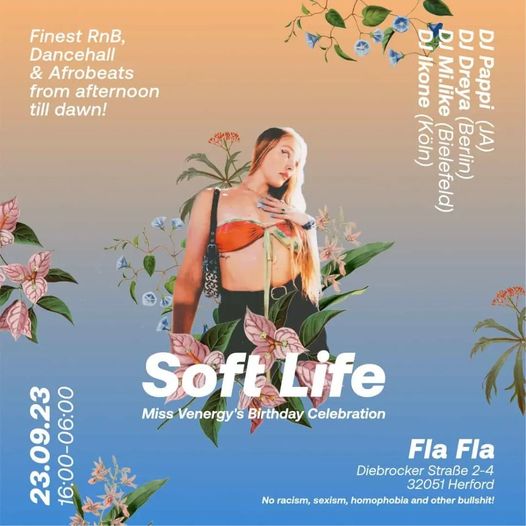 S O F T L I F E
2 3. 0 9. 2 0 2 3
RnB | Dancehall | Afrobeats
"People im really exited to introduce you to my upcoming party called 𝚂𝚘𝚏𝚝 𝙻𝚒𝚏𝚎 inspired by Summer Walker's EP. Time to celebrate my 30th birthdaaaay
Some of my favorite favorite favorite DJs will be there to make sure to bring the right vibe! Get ready for the smoothest R&B, afrobeats and dancehall music, so we can all enjoy ourselves and dance like nobody's watching.
This isn't just a party—it's a tribute to loving yourself, embracing your soft side, cherishing friendships, and celebrating the growth that comes with knowing your worth.
"
Please remember, our party has zero tolerance for sexism, racism, or any kind of discrimination. We're here to enjoy ourselves and create unforgettable memories.
People all I can say is that this party will be diffrent from other parties you are used to
so dont miss itttt!
! We start at 16.00 o'clock (4pm) allready and party till open end !
:
DJ Pappi (JA
) @dj__pappi
DJ Mi.like (Bielefeld)
DJ Ikone (Herford) @_i_k_o_n_e_
LOCATION:
Fla Fla | Diebrocker Straße 2 – 4 | 32051 Herford